What makes Solid-Core composite timber doors special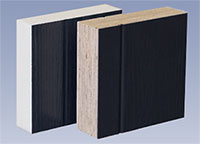 Add instant kerb appeal to your biggest asset
A premium collection of beautiful doors made from 16 layers of laminated veneered timber (called Kerto®) that run in multiple directions ensuring the Kerto® core has significantly improved strength, rigidity and security. Bonded to this are 2 robust coloured UPVC skins with realistic wood effect or smooth finish for exceptional strength and all weather performance.

Why these doors are better than GRP or Timber doors?
Solid-Core doors offer all of the traditional good looks of timber without any of the drawbacks. While timber may crack, split or warp and of course need regular sanding and repainting and GRP may crack and fade under the glare of UV rays; UPVC requires very little maintenance, is guaranteed colourfast for the lifetime of the door whilst offering the security, performance and long-life expectancy of modern materials.
The Solid-Core door slabs and UPVC frames are both manufactured here in Britain under strict BS EN ISO9001:2015 quality management systems and are then assembled in a bespoke composite door factory to achieve BS EN 14351-1:2006+A1:2010 ensuring high quality standards.
Door designs - billions of combinations
An extreme array of 75 door types in 18 colours inside/out in up to 42 decorative glass varieties, surrounded by 28 frame types in 18 colours, 13 kinds of side lights/panels each with their own decorative glass choices, several hardware families each with their own handles, letterboxes, knockers, etc. RAL door slab colour also available.
Please use our unique on-line solid-core composite door designer
Please note these lovely doors are made in the UK by Future Products Ltd, up close the door frame profile is slightly different and colours are essentially identical to our own windows & doors. As usual side panels/lights will be manufactured separately to the door including a reinforced coupler for added strength.
Thresholds
Full threshold for best seal and insulation.
Half threshold, the same as above but shorter.
Low aluminium made by Stormguard™ in silver or gold.
Part-M wheelchair compliant low aluminium with ramp made by Stormguard™ in silver or gold.
High security
A new unique auto lock is used in most circumstances, made for Solid-Core by Ingenious Locks & Hardware, with 4 independently operating "auto-fire" locking points. By just closing the door, each locking point strikes the roller enhanced keep and smoothly fires the dead-bolt into the engaged location, removing the need to lift the handle. More info
Narrow doors with normal handles have the Yale Lockmaster lock as standard which provides the ultimate deterrence against forced entry with its robust hooks at the top and bottom of the door.
Narrow doors with knobs, bars or escutcheons have the GU Security Automatic lock as standard, which is a "slam shut lock", so by just closing the door the latches engage and lock the door. The key is needed to open the door.
Double doors have the Winkhaus FGTE lock.
Stable doors have the Fuhr lock.
All locks are PAS 24 and Secured By Design accredited.
Laminated glass option (very difficult to break through).
Ultion security cylinder with £2000 break-in guarantee and "key control". Register here
Solid-Core doors made by Future Products Ltd have police approved Secured by Design (SBD) with spyhole, security chain, laminated glazing and Ultion cylinder. Recognised by many insurance companies.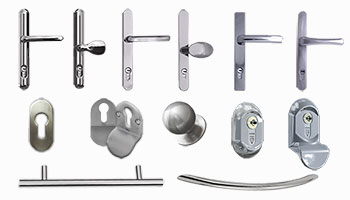 Hardware suites
A great variety of hardware, in suites/families of Sweet, Balmoral, Architectural, Heritage and Stainless in up to 8 colours.
Also contemporary hardware in a variety of knobs, bows and bars in many lengths.
Sweet's simplicity creates long lasting beauty and is available in 6 colours.

Side-panels
Glass side panels from 220mm to 820mm wide in a large range of obscure glass.

Also fancy composite side-panels in 10 designs and 18 colours from 456 and 496mm wide, with obscure or premium glass designs.
Double doors
The ultimate door for your home, a powerful first impression, 2 composite doors instead of just 1. Using the highly secure PAS24 Winkhaus FGTE locking system. There is a very slim aluminium bar between the doors (a false mullion) that is covered in a foil to match the doors. Slave and Master door have independent cylinder locking that is keyed alike (same key).
Stable doors
Bring the country charm to your property with a stable door. The top half of the door can open with the bottom half closed to keep children and pets secure inside. With the same security and quality as the other Solid-Core doors.
Comprehensive guarantee
Door slab: 10 years (colour stability, impact strength, shape retention). Small thermal movement in timber products is normal and excluded from guarantee when not preventing operation.
Frames: 10 years including skin discolouration.
Sealed glass units: 5 years (Hotmelt seal failing).
Glass cassette sealing: 1 year.
Ultion cylinders: £2000 snap guarantee for replacement cylinder and door for 10 years. Register here
Door hardware: 1 year and also 20 years anti-corrosion guarantee is given by Sweet directly on registration.
Please see further guarantee terms.
To price a door just click on Composite doors on our home page!