Guidance
Helpful guidance will appear here when you click on any options on this page.



Frame colours
Aluminium flat profile without any sort of texture.
Available in any RAL or British Standard colour, polyester powder-coated for durability to maintain a fresh appearance, year after year.
Highly resistant to corrosion.
Durable scratch resistant finish.
Standard colours:
White Gloss RAL 9910
Black Matt RAL 9005
Anthracite-grey Matt RAL 7016
Anthracite-grey Matt RAL 7016 with White Gloss RAL 9910 internally
Premium colours:
Please choose "RAL colour" at the frame drop-down at the left, and at checkout enter the actual RAL code including Matt, Gloss, or Satin in the comment box.
Note: Custom RAL colours will delay your order by an
additional 3 weeks and will be the same colour inside and out
.
PAS 24 security
Enhanced security PAS 24:2012 has been produced by BSI to provide a method for testing and assessing the enhanced security performance requirements of external doorsets. Intended to resist the levels and methods of attack experienced in Britain.
Building Regulations compliant.
Important: If you want to fully comply with PAS24, please also add Laminated glass by using the glass options icon on each pane.
More information:

Handle colours
Our door handles are available in white, polished chrome, anthracite-grey (RAL 7016), or black.
Shootbolt handles are the same colour.
Please note: Hinges and the little pull handles on the hinges are always black to match the black rubber gaskets.
Fixing kit
Contains approximately 40 assorted packers of various thicknesses (1 to 4mm) ideal for aligning and fitting the frame and glass units (toe and heeling).
Also approximately 12 concrete countersunk screws 7.5 x 120mm.
Ideal for fixing into concrete, brick, stone, concrete block and wood.
These screws do not require wall plugs. How to video on Youtube.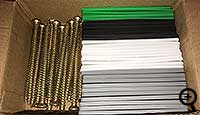 Open inside/outside
A door can open in, into your home or out, away from your home, as viewed from outside.
We recommend bi-fold doors to open outwards, saving space inside your home and improving weather resistance.
Hinges and the little pull handles on the hinges are always black to match the black rubber gaskets.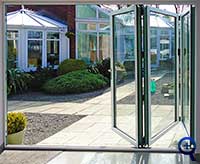 External aluminium cill
Most doors require an external cill to drain water away correctly. If you already have a stone or tiled cill as part of the building you may not require a cill.
85mm stubb cill
This cill only protrudes from the external door face by 8 to 15mm.
150mm normal cill
Our most common cill size covers most situations. Protrudes from the external door face by up to 80mm.
190mm long cill
If your door is set further back into the brickwork, you may require our largest cill that protrudes from the door by up to 120mm.
Please note: If a cill is chosen, the cill height of 25mm will be included within the overall height of the door.

150mm cill & normal threshold
Glazing choices
Thermal upgrade as standard, we use the same high quality 1.22 u rated Pilkington glass as on our windows.
Advanced double glazing Argon filled with 1.22 glass u-rating.
We cannot use
triple glazing
on bi-fold doors due to the weight and thickness, making the folding difficult. If you need triple glazing, please use our
French doors
.
Acoustic glazing
Pilkington Optiphon™ high quality acoustic laminated glass offers excellent noise reduction without reducing light transmittance and impact performance.
Ideal for significantly reducing noise from road, rail or air traffic, factories or nightclubs.
Noise is reflected back towards the source and also absorbed within the glass.
The glass unit is made of a 6.8mm acoustic laminated outer pane, a 18mm Superspacer void and a 4mm inner KS pane.
Being laminated it is also very secure and difficult to break into.
The u-value is 1.2, the same as our superb A+ rated double glazing.
Sound reduction Rw(C;Ctr) 41dB(-2; -6)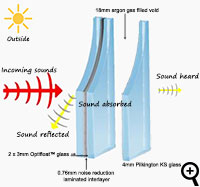 Locks & cylinders
We supply these locking cylinders:
Euro: Standard 6 pin cylinder lock.
Thumbturn: allowing you to lock the door from the inside without a key. At the outside a key as usual.
Ultion security: A superb 11 pin security cylinder, with a £1000 break-in guarantee from Ultion. More information
Ultion thumbturn: A superb Ultion security cylinder but with a thumb-turn inside.
All our doors come with 3 keys.
Frame extenders
A frame extender increases the thickness of a door frame at a specified side. Great for properties with deep plaster, render or tiles over tiles.
Some fitters buy extenders as a precaution, for example where the door opening has not been built yet. Extenders can be modified to accomodate inconsistent side walls.
Extenders simply clip or slide on the door profile as you can see on the picture.
Example of 20mm extender sliding

Glass types
We supply clear glass and 19 designs of obscure privacy glass from Pilkington, including Satin.
Each glass type has a privacy level from 0 (clear) to 6 (solid).
Panels: Insulated MDF reinforced UPVC panels instead of glass.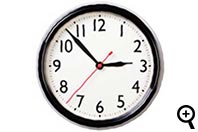 Clear - level 0
Arctic - level 4
Autumn - level 3
Chantilly - level 2
Charcoal-sticks - level 4
Contora - level 4
Cotswold - level 5
Digital - level 3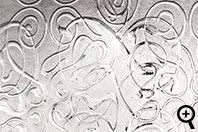 Everglade - level 5
Flemish - level 2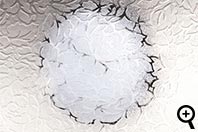 Florielle - level 4
Mayflower - level 4
Minster - level 2
Oak - level 4
Pelerine - level 5
Satin-opal - level 5
Stippolyte - level 4
Sycamore - level 2
Taffeta - level 3
Warwick - level 1
Solid panel - level 6
Glass decoration
For added decoration or for a traditional feel we have Georgian bars, Square lead or Diamond lead.
Our Georgian bars are 18mm thick and are placed between the glass panes for ease of cleaning. We do not offer external Astragal bars due to unreliability as they are just taped on. We can instead supply a single horizontal or vertical extra bar. More information on the the glass menu pop-up.
Our Square lead is traditional lead which is 9mm thick and is placed on both sides of the external pane of glass.
Our Diamond lead is real 9mm thick lead on both sides of the external glass pane.
Note: lead layouts are just a representation, the actual layout will be according to best practice.
Note: For custom or special Georgian/lead layouts, or to match a window with an adjacent door or window, please leave specific instructions as a note at checkout.
Georgian Bars
Our Georgian bars are 18mm thick and are fitted between the glass panes for easier cleaning. All Georgian bars are colour matched to your window colour to ensure the right look.
Instructions:
Please choose your own number of horizontal and vertical Georgian squares, or leave it on automatic where the actual layout will be set by us according to best practice.
Small adjustments to align the bars between panes will be done by us.
For custom/special layouts please leave a note at checkout.
Glass safety
We supply 3 strengths of glass:
Standard: Normal glass, which is dangerous when broken as it breaks in large sharp pieces. Not allowed for doors.
Toughened: Specially treated to increase its strength and safety.
If broken, toughened glass breaks into many small pieces therefore it's less likely to cause injury.
Laminated: Our strongest glass, similar to a car's windscreen, has a laminated layer that keeps the glass together when broken, making it very difficult to break into. See the video below:
FENSA building regulations apply to glass safety.
Thresholds
Normal rebated threshold:
At 51mm high including rebate, (31mm to bottom of door sash). Plus 25mm for cill if required.
Low threshold with ramps:
15mm high, great for wheel-chair access as it comes with ramps. To be used in sheltered locations as it's not completely weather proof as there is no rebate. The ramps can be removed before installation if not needed. Not with PAS24.
No ramps will be supplied if having a cill.
Integrated cill threshold:
Same as the normal threshold (51/31mm), but the cill is already integrated, saving the 25mm for a separate cill. Open out only.
Note: On inward opening doors, please make sure there is sufficient clearance between the bottom of the door and the floor inside.
Trickle vents
1 or 2 slimline Greenwood AIRVAC 4000L trickle vents which provide background ventilation when the folding door is closed.
Complete with insect grill and manual open/close control.
They help to control outside air flow to reduce condensation and mould.
Total width 485mm, 2 slots of 203mm x 10mm per vent.
Equivalent area 3200mm2 per vent.

Please note if any trickle vents are chosen, a 42mm aluminium frame extender will be added above the door and included within the door's overall height.

FENSA building regulations apply to ventilation.